We can all trace our success to two basic inputs: firstly, a series of developmental events that gave us experience, judgment, and insights; and secondly, we had a coach (possibly a manager) who took a special interest in our work and in our career, and our personal development.
What part can an executive or business coach play in you and your organisations success?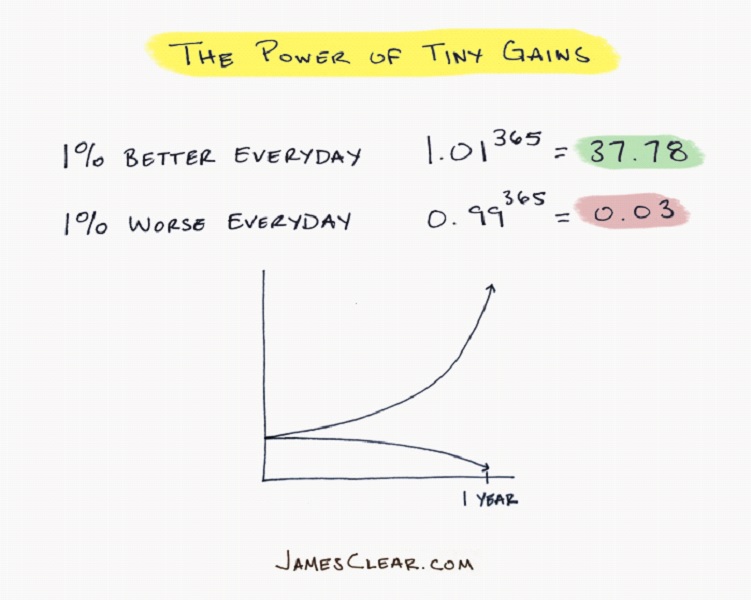 In the above figure, James Clear illustrates just how effective small choices over the long term are, and can either cause a decline or create exponential growth in your business. The purpose of coaching and strength training is to create these gains.
Josh Bersin notes that, "...the talent process that delivers the greatest impact is executive and management coaching. This scored higher than setting goals, aligning goals, building core competencies, and recruiting high performers."
In the past an executive coach was used to lift the outcomes of under-performers. However, coaching is mostly used as a tool to develop over-performers, leadership and organisational strengths and to focus their efforts, clarify business strategies, and thus drive business results.
When considering executive coaching, the first thing to note is that a coach is not a mentor. Mentors operate within an informal, long-term environment. A mentor, or the student, may leave the environment where they first met, without a break in the relationship. Contact may become infrequent, but the door is always open for communications.
On the other hand an executive coach operates within a formal, short-term environment. It is not a continuous, potentially life long process. Once the agreed issue has been addressed there may be no need for the coaching relationship to continue.
Another thing to consider is that coaching is not a leadership style. However, it is an essential skill for any empowering leader. It as a powerful tool for developing your teams, and is essential to help your people see the common goal of their team and the ultimate goal of your business as a whole. As an empowering leader, we need to consider our role as "building a winning game plan," not "managing people."
There is one more thing we need to note about an executive coach; they often come from an unrelated industry and may know less about your specific industries subject matter. For example, Lou Gerstner, the man who turned around IBM, came from Nabisco. However, Gerstner was a fantastic coach. Gerstner simply applied disciplines, and displayed the type of empowering leadership that IBM needed.
If we desire to see the best outcomes for our business, we need the best from our teams and individuals within our organisations. An executive coach helps teams gain a deeper understanding of the challenges they face and the solutions that are available to them.
The question is how not to be a slave to the average, but to be a leader who brings their very best to their organisation; and the teams and individuals within it?
At Joseph Consulting we are passionate about empowering leaders so they can make the most of their situations. Please call Joseph Consulting if you would like to discuss how we can provide you specific executive coaching.
Rob Boynton
Leadership & Business Consultant
Joseph Consulting
(Josh Bersin is CEO of Bersin & Associates)